Key question: If the customer journey is no longer linear... when and how do you engage with your customers? 
---
One answer... Understand and invest in your Marker Moments
---
Zeus Jones have written a brilliant blog about this. 
The first step, as is often the case, is to think of communications from the customer's perspective. Key customer interactions can impact your brand's reputation; Zeus Jones call these key interactions Marker Moments. Marker Moments are those where you can generate an emotional connection with the customer that helps define your brand and increase your chance of a sale. 

There are three kinds of Marker Moments, the most positive emotional experiences; the most negative emotional experiences; and the final experiences you have in a process. These are not linear moments along a time-bound customer journey, but flashpoints where one moment could change everything.
The blog provides an example of a person receiving a medical bill. It's an American company, so no NHS. They talk about the emotions and experiences associated with someone paying a medical bill. Something many of us hopefully don't have to experience. The example was a good one, but being a UK citizen, I have another.
The Virgin brand is a great example of delivering a great customer experience. The whole premise of the original Virgin Atlantic offering was to change what was an unpleasant air travel experience, for many, into a fantastic one. The brand also wants to ensure those positive experiences are translated to other branded products - Virgin Media for example. I'm a Virgin Media customer and this is my customer experience.
It started in mid-July when, due to a fees row, Virgin Media dropped UKTV channels (e.g. Dave), from its package. 
What unfolded was heavy commentary about who was in the right - this came to a head on the Radio 4 Media Show which helped to highlight the differences and frustration between both sides. Great radio, but uncomfortable listening for their PR departments. 
The story continued and there was talk of Virgin starting to lose customers as they move to Freeview in order to access UKTV channels. There's even talk of a Freeview TV advertising campaign to highlight the issue. 
It seemed likely that customers were going to cancel Virgin Media contracts because they couldn't deliver on what was promised. They would leave having a final Marker Moment experience that was frustrating and negative. The impact could have been felt across other Virgin brands - could a negative customer experience with one Virgin brand translate into people's perceptions of other brands? Probably unlikely, but still a risk.
Then, three weeks after the problem arose, an email arrived from Virgin Media explaining that UKTV channels were back. An important email; not just about delivering a piece of service information, but an opportunity to re-align brand expectations and deliver on an excellent customer experience - a Marker Moment.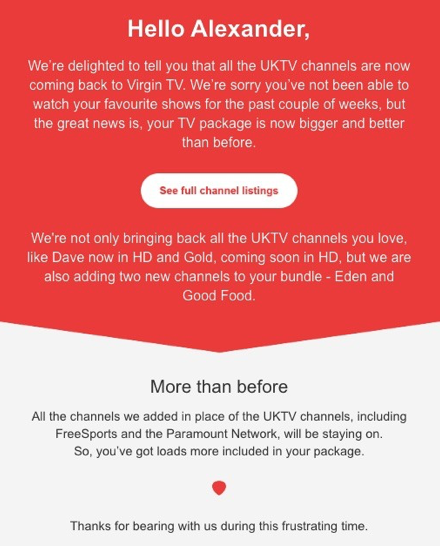 In short: get previous channels, keep current channels, get new channels. The result of which means my final experience in the process has exceeded expectations and that helps the Virgin brand. People didn't care who was in the right, they just wanted access to comedy shows to enjoy after a long day at work. Comedy for example from Romesh Ranganathan - I'm a fan and could now see his new show, Judge Romesh on Dave. 
Turns out it's not that good.