Like many businesses in the UK amidst the Covid-19 crisis, Hitch is making changes to the way it operates and grappling with how it continues working on tackling the issues that matter most in the world. So, creating time to use our talents to help fight Covid-19 is, like for many companies, the instinctive thing to do. Last week Talenthouse gave us just the inspiration we needed to help channel our creative minds.
Talenthouse
Talenthouse.com is a global and diverse community, hailing from all different cultures and backgrounds across the world. It's a community of mutual love of art, creativity, and innovation.
Creators and artists are often the ones who are able to break down barriers and connect people through art and communication.
In collaboration with the United Nations, help is sought in translating critical Covid-19 public health messages, into work that will engage and inform people across different cultures, languages, communities and platforms.
The UN will review the submissions and shortlist the most suitable work to become visible on a microsite. This will be accessible to everyone - supporting media, brands, influencers etc - around the world, who can download and use the work across their platforms in support of this cause. In summary, the shortlisted work will reach everyone, everywhere. 
The Concept
Hitch took the opportunity to contribute and help improve public awareness in a more visually and compelling way. Here's one of our submitted concepts and some of the thinking behind it.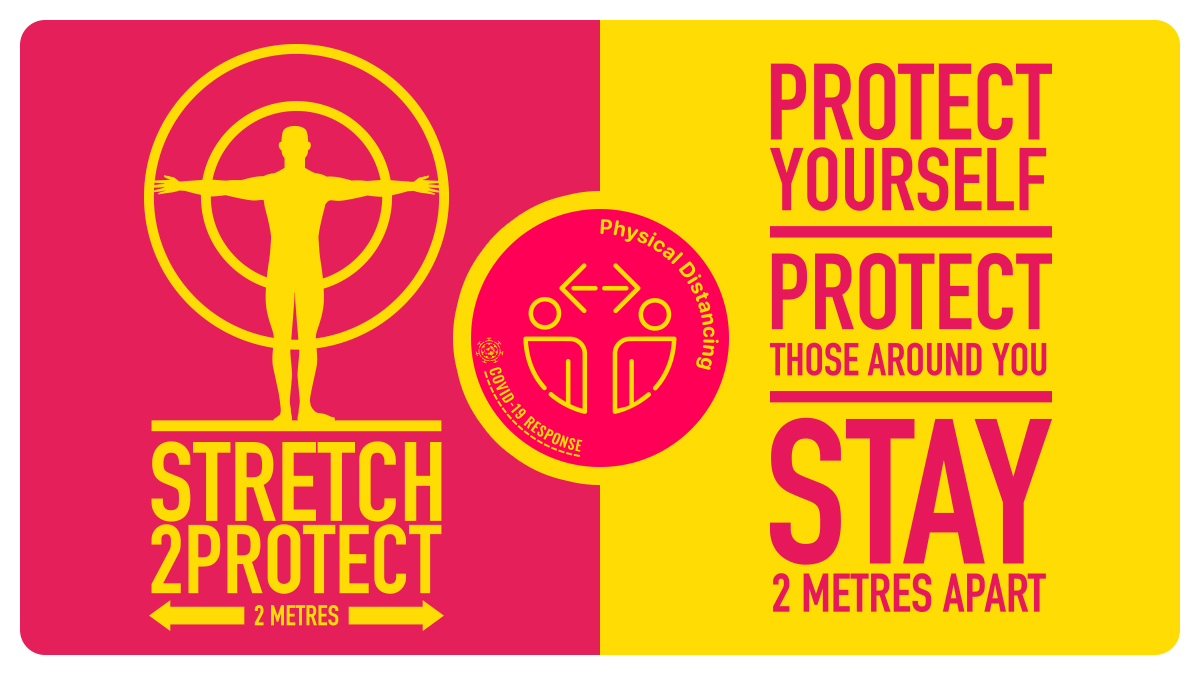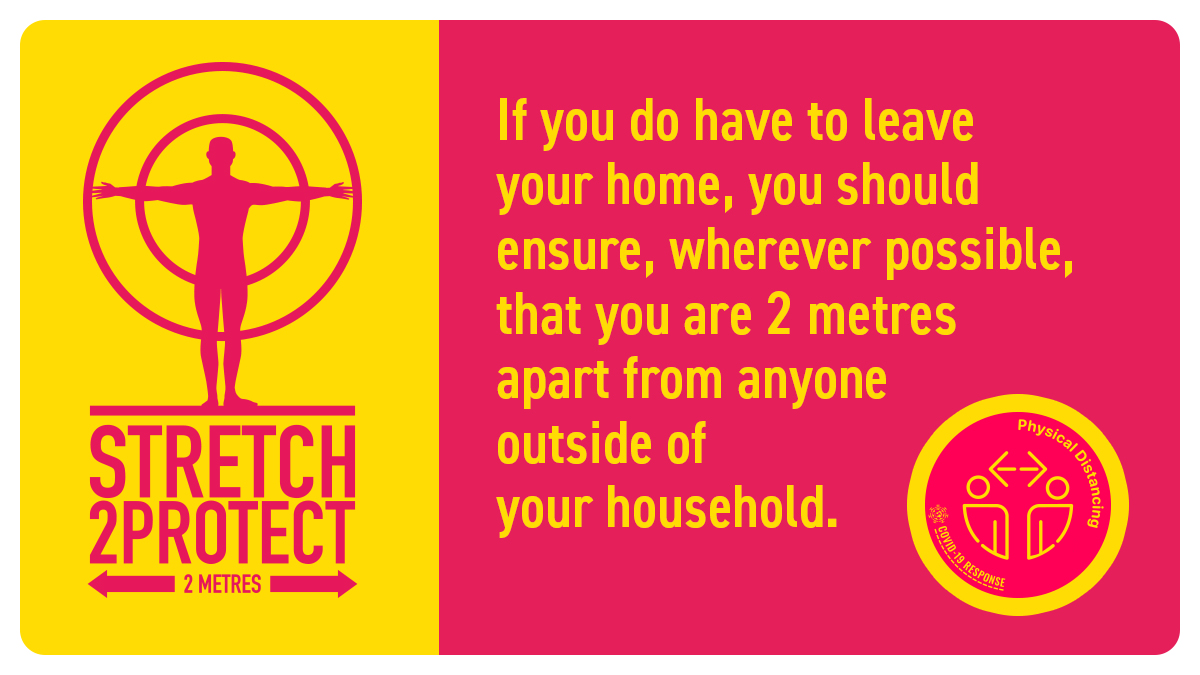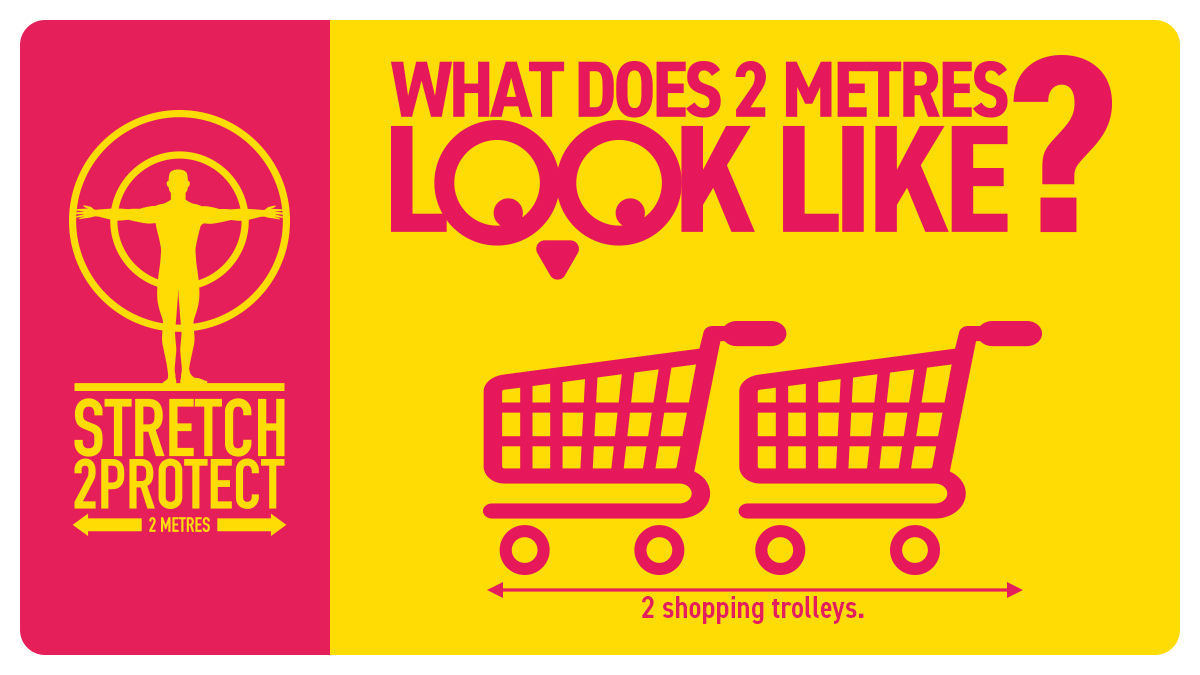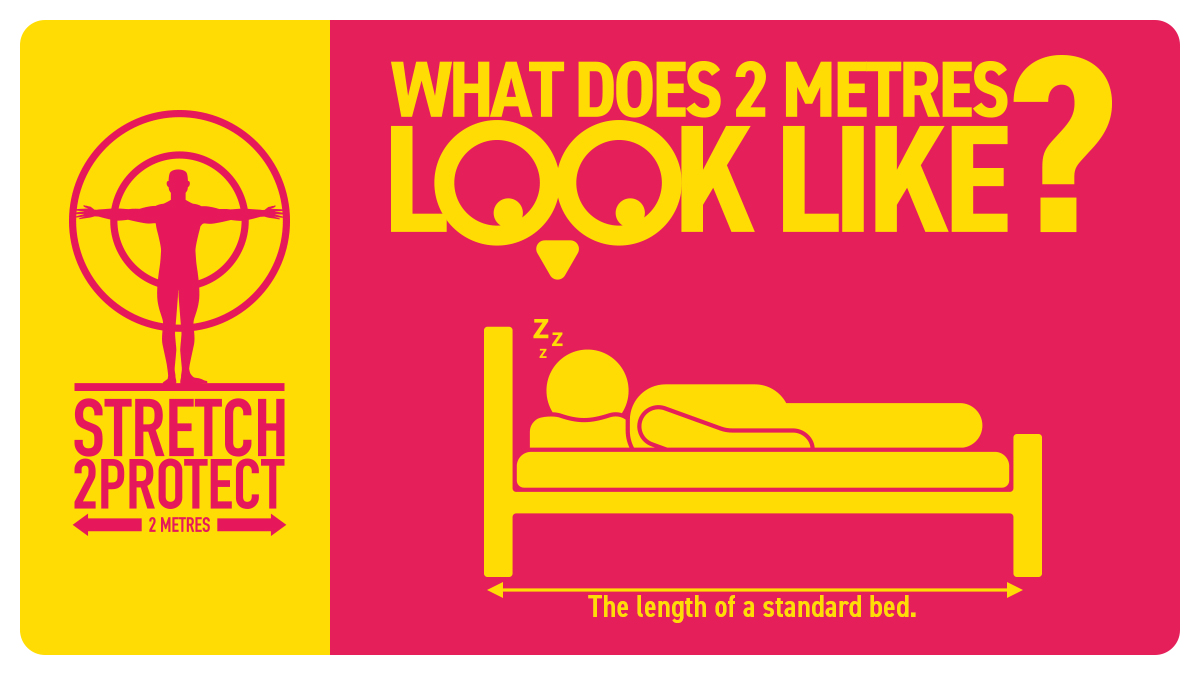 Based on the theme of 'social distancing', this concept is an evolution of Leonardo da Vinci's Vitruvian Man. The key graphic displays a human form stood up with arms outstretched horizontally. Concentric circles surround the image, one having a diameter touching where the fingers reach out to. From fingertip to fingertip is an estimation of two metres. To support the graphic the wording 'Stretch2Protect' is typeset below with the number 2, linking to the two-metre rule for social distancing.
This forms the key graphic for our Covid-19 social distancing communications. The concept uses an identifying anchor for a series of infographics that visualise regular objects as simple graphics enabling people to identify approximately what 2 metres looks like. The reason most people leave home is to do shopping, for this reason the infographics tend to be associated with the function of shopping at a supermarket; two shopping trolleys are shown lined up, four shopping baskets are shown on another with a range of everyday items lined up side-by-side to mark the equivalent of two metres. 
Whilst the entries are being reviewed and shortlisted, we thought we'd share one of our ideas. You never know, it might inspire some creative thoughts from you on how to help tackle the Covid-19 crisis in your setting and using your influence. 
#Staysafe
PS and our session for next week - converting this concept to consider emotional and social norms framing perhaps...